Pumps - Quick Links
Richter Pumps - Latest News
You are here: Home | Latest News
---
Counterfeit Consumables Endanger Process Personnel
28th June 2011
Billingham-based Tomlinson Hall & Co Ltd, UK distributor for Richter Chemie-Technik GmbH, the German pump and valve manufacturer, have encountered a disturbing trend in the supply of counterfeit consumables within certain models of Richter Pumps.
With the majority of pump applications for Richter pumps being for handling difficult corrosive or hazardous fluids, often within hazardous locations, pump failure can not only prove expensive with process shutdowns, but also endanger process industry personnel.
Colin Simpson, Sales Director at Tomlinson Hall, commented, "As Richter's new UK distributor, we ran a competition to win a new iPad once users had registered. On contacting these clients we then came across examples of where the engineers, whilst thinking their pump had genuine Richter consumables such as impellers etc, encountered a pump failure which had revealed the part was non-genuine, thus not only negating the warranty but also resulting in non-conformity with The Directive on Machinery and, where relevant, The ATEX Directive."
"In addition, the use of counterfeit parts can impact on the performance and operational safety of the original product (e.g. NPSHr or minimum flow deviate) or on the operational safety (e.g. lack of dry run capability, less efficiency or flow and head).
"Fortunately, we were able to supply genuine Richter parts on both occasions to our customers' complete satisfaction and their pumps are now running perfectly again."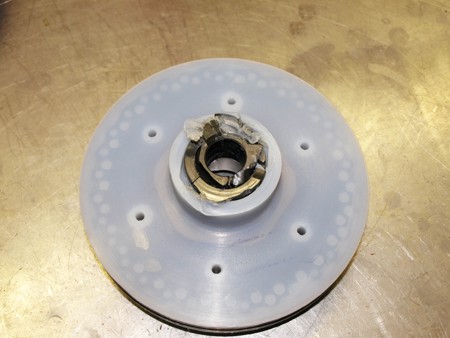 "Richter has set the bar for PFA-lined magnetic drive and mechanically sealed pumps for decades, but the existence of these non-certified consumables within some of the pumps has created a situation whereby Plant Engineers, unaware of the counterfeit parts, could be putting their operations and staff at risk by thinking they were running genuine Richter pumps and consumables. Only original Richter parts and spares can provide and assure the necessary quality."
The enclosed photo shows a counterfeit plain bearing pedestal which suffered extensive damage through its smaller internal diameter washer which sealed the lubrication groove.
Tomlinson Hall is a family owned business based on Teesside specialising in the distribution of pumps, power transmission equipment and engineering supplies.
To register your Richter pump, please visit register or contact Tomlinson Hall on (01642) 379500.