Pumps - Quick Links
Richter Pumps - Quality
Plant safety through high quality pumps and valves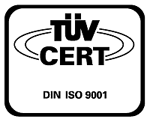 Richter was one of the first companies in its branch to implement a quality system to ISO 9001/EN 29001. This quality system is constantly refined and therefore remains at a very high level.
High-quality products and service are pillars of our corporate philosophy. Every single valve and pump is subjected to a leak and functional test and only then released for dispatch.
Apart form a few exceptions, all Richter products comply with the requirements of the German Clean Air Act ("TA Luft") and are appropriately tested and certified. Our quality and reliability are also documented by numerous other product and production-related certificates (type tests for shut-off and safety valves to TÜV, TRT hazardous goods certificates etc.).