Pumps - Quick Links
Richter Pumps - Latest News
You are here: Home | Latest News
---
Richter Launch New Mid-Range Corrosion Resistant Pumps
18th October 2011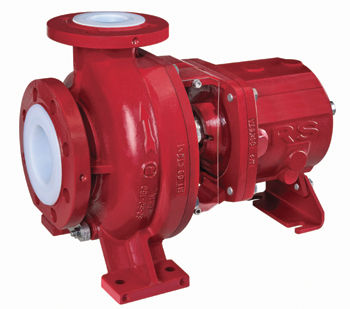 Richter Chemie-Technik GmbH, the German pump and valve manufacturer and part of the US-based IDEX Corporation, has launched a new range of PFA lined, mechanically sealed pumps specifically aimed at the mid-range of the process industries market.
Colin Simpson, Sales Director at UK distributors, Billingham-based Tomlinson Hall Ltd, commented, "Richter Pumps are renowned for their innovative magnetic drive and mechanically sealed, plastic-lined pumps for difficult corrosive and hazardous fluids and have become the standard within the European chemical, petrochemical and pharmaceutical industries."
"However, they have identified a gap in the market for mid-range pumps which previously would have necessitated the use of a higher specification model than was actually necessary. The new RSI and RSA range of mechanically sealed process pumps has therefore been developed to meet the standard needs for highly corrosion resistant PFA lined pumps at a competitive price."
Both the RSI (ISO/DIN code compliant) and RSA (ASME/ANSI code compliant) pumps incorporate PFA lining to provide the highest chemical resistance at temperatures from -30° C to 150° C and full FDA conformity. These mechanically sealed process pumps can also handle liquids containing solids and have flow ranges from between 0.1 - 120m3/hr with delivery heads up to 100m.
A major feature of the pumps is their low life cycle costs, designed specifically for ease of maintenance with a wide open lantern design for full visibility and easy access to the mechanical seal area. The pumps are considerably cheaper than mechanical seal pumps made of corrosion resistant metals (titanium, nickel etc) and have a larger pressure and temperature range than full plastic or partially armoured pumps.
Lutz Rosin, Marketing Executive at Richter Chemie-Technik GmbH, commented, "The new range compliments rather than competes with Richter's existing range - for larger flows, higher temperatures and specific applications, the Richter SCK or mag-drive MNK series may well be more appropriate, but the market's reaction to these mid-range pumps has been very positive as they incorporate all the high quality design that Richter's products are known for, but at a more economic price that offers superb value for money."
For more information please visit www.richterpumps.co.uk or contact Tomlinson Hall on (01642) 379500.